The Mule deer of California
Usually a timid animal, the mule deer buck will fight aggresively during mating season for a doe. The mule deer is closley related to the white-tailed deer, but they can be distinguished by their antlers Unlike many other species of deer, the mule deer is solitary liveing in habitats from the high mountains to deserts and plains. It does not form herds, but rather lives alone or in small family groups in a well defined home range.

This page has been visited
times.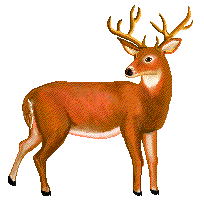 Did you know? That a buck's fierce fight for a doe is often a bluff. One contestant turns away before a real battle occurs. IN 1924-25 an epidemic of foot-and-mouth disease killed thousands of mule deer in California; 22,000 were slaughtered to check the disease. Mountain lions, bears, bobcats, goldeneagles, coyotes, and wolverines hunt mule deer. The mule deer is called"jumping deer" for its habit of jumping high when running.
John Nelson
1604 Home Terrace Dr
Pomona, CA 91768
Tel. (909) 629-0994
My Snazzy List of Links
Community Service Bulletin: Concerning Animal Care
SAVE THAT TIGER: FRIENDS OF THE WORLD FOR A BETTER WORLD
Natures Original OdorGone: Greatest thing to happen for animals.
Big or small we love them all: People helping support our ZOOS
Good looking Blond: Friend of the Animal Enhancement Fund
Breast Stroke And: WOWEEEEEeeeeeeeeee
Fewer Flies in the Skies: Products that remove odors and flies
View My guestbook
Sign my guestbook